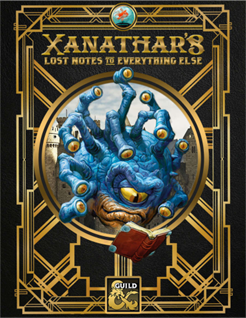 I'm fascinated by the new subclasses in Xanathar's Lost Notes to Everything Else. In fact, most new class designs fascinate me, although actually evaluating them? It's hard. You need to playtest them. As it happens, the element of D&D that will see more play than anything else after the basic systems are the character classes. An individual spell that goes wrong can be easily excluded. A class that makes missteps? It's harder.
My analysis of the subclasses is necessarily incomplete: I don't have time to properly evaluate them through playtesting. Another caveat: Even if I do playtest them with my group, a different group could end up with a completely different take, because their emphasis on the type of play differs markedly from my own. So, you certainly should not take my word as absolute gospel. Find other reviews of the product, and see what they think. And when you do get it, once you've read and (hopefully) used it, write some notes of your own. With a product like this, even a partial review of the bits you've used helps not only potential purchasers, but also the designers and developers. Feedback is essential to this hobby; very few products of this type can get enough playtesting, even if they're released by Wizards of the Coast. At some point the designer just has to stop tinkering and release something!
So, let's have a look at the first subclass in the book in a little more detail than I offered in my first look at the book, the Barbarian Primal Path, Path of the Courageous Heart.
The description of the subclass indicates that it's something of an accidental profession, for characters who are more lucky than trained, but who have taken up the path of the adventurer to protect the weak – and by dint of being lucky and brave, they get away with it. It reminds me of Tika Waylan's fighting style in the Dragonlance Chronicles. I'm not sure if I really like the concept as a full character class of 20 levels; I prefer to think at the higher levels they'd actually have some training. However, that's the concept we're given, with so let's see where it took the designers!
Third level gives us two abilities: Matter at Hand and Favor the Bold. Together, they allow the barbarian to deal 1d4 + Strength modifier damage with unarmed strikes and improvised weapons, and, when raging, to gain +1d4 to attack rolls with such weapons. You also get a +1d4 to saving throws while raging.
This sacrifices damage for accuracy. There's basically no time in the game you'd ever use an improvised weapon if your barbarian wasn't raging, so in the early levels this is restricted to two or three encounters a day. Not so bad for an Adventurers League game, but a bit more restrictive in a home game. At later levels, you have enough uses of rage per day for it basically to be "at will."
The question presents itself: Is this worth it? I'll do a comparison here for average expected damage with a barbarian with a Strength of 16 wielding, first a longsword, and then a greataxe. This gives a +5 to damage from Strength modifer and raging, and likewise a +5 to hit. The calculation for the unarmed attack includes the additional 1d4 modifier to hit. I've left out a consideration of critical hits.
Armour Class
of Foe
Unarmed
Longsword
Greataxe
11
6.6
7.1
8.6
12
6.2
6.7
8.1
13
5.8
6.2
7.5
14
5.4
5.7
6.9
15
5.1
5.2
6.3
16
4.7
4.8
5.8
17
4.3
4.3
5.2
18
3.9
3.8
4.6
Now, let's look at the figures when the Barbarian makes a reckless attack:
Armour Class
of Foe
Unarmed
Longsword
Greataxe
11
7.4
8.9
10.8
12
7.2
8.6
10.5
13
7.1
8.3
10.1
14
6.9
8.0
9.7
15
6.7
7.6
9.2
16
6.4
7.1
8.6
17
6.1
6.6
8.0
18
5.8
6.1
7.4
Fascinating, isn't it? The basic answer is "no, it isn't worth it". If you're attacking a lot of high AC foes, it draws slightly ahead of the longsword, but typical campaigns won't have that number.
Now, there's one exception to this which makes the improvised weapon option better. It's this: "If your improvised weapon is similar in shape and function to another weapon, you can use that weapon's statistics instead." And that exception gives me a lot of problems. So, you are brilliant at wielding items that are like greatswords, but are worse when you actually have a greatsword in hand? That's a problem. It doesn't make sense, and pushes the subclass towards into a box marked "overpowered". Somewhere it's heading with the next ability.
It's at sixth level that you gain Hearty Blow. This grants you an additional 1d4 damage when you strike with an unarmed or improvised weapon when raging. After suffering through three levels of an inferior option, you gain something that makes the class begin to hold its own. It doesn't end there – you get another 1d4 at 10th level, and finally a further 1d4 at 14th level. At that point your unarmed attacks are dealing 4d4 + Strength modifier + rage modifer damage. While you rage, of course.
This makes the figures look a lot better! I'm assuming Strength 18 for level 6, and Strength 20 for levels 10+. (6th: +7 to hit, +6 damage; 10th: +9 to hit, +8 damage; 14th: +10 to hit, +8 damage).
Armour Class of Foe
Unarmed
6th
Greataxe
6th
Unarmed
10th
Greataxe
10th
Unarmed
14th
Greataxe
14th
11
9.4
10.6
14.7
13.8
17.1
13.8
12
9.1
10.0
14.7
13.1
17.1
13.8
13
8.8
9.4
14.5
12.3
17.1
13.1
14
8.3
8.8
14.1
11.6
16.9
12.3
15
7.8
8.1
13.6
10.9
16.4
11.6
16
7.3
7.5
12.8
10.2
15.8
10.9
17
6.8
6.9
12.0
8.4
14.9
10.2
18
6.3
6.3
11.2
8.7
14.0
9.4
The longsword figures are comparable to unarmed at 6th level, and they disappear into irrelevance at later levels. Yes, unarmed or improvised strike ends up doing significantly more damage than the longsword!
And yet… there's one problem here. The improvised or unarmed strike is not counted as magical. You can't get bonuses from a magical weapon. Halve all the damages, and the figures suddenly look a lot worse. The Path of the Zealot barbarian is dealing extra radiant damage (an extra 1d8+7 damage per turn at level 14). The Bear Totem barbarian is taking half damage from everything except psychic. The Wolf Totem is granting all other characters advantage on their strikes.
It's underwhelming at low levels, and at high levels can be significantly hampered! How good it is depends on how kind your DM is in his or her monster selection.
The tenth level power, Stroke of Inspiration, fits my definition of a power where the benefit doesn't reflect the cost. The benefit? You get to reroll a failed Charisma, Intelligence or Wisdom-based check with advantage. The cost? You expend one of your uses of rage.
This isn't quite so bad as I make it out to be; you do get a lot of uses of rage each day (four to six times, for most of the levels at which you have this power). It's just such a borderline power. There are almost no times when it's worth your while rerolling such a check; the other characters will be rolling better than you. It will occasionally be great; mostly I expect it will be forgettable. Honestly? I wish there were more things about this subclass that triggered off Intelligence, Wisdom or Charisma. Explore the concept of the inventive, lucky barbarian!
I will note that I much prefer a reroll with advantage to "you succeed on the check". There are checks that, even with a roll of 20 on the die, you'll fail. Having the supernatural ability to do the impossible is something I dislike intensely.
The final power, gained at 14th level, is Tenacious Heart. This triggers whenever you use Relentless Rage to try to stay conscious. You can reduce the DC of the check to keep fighting by 5, grant allies within 30 feet of you advantage on their next attack, or give each ally within 30 feet of you 10 temporary hit points.
I like this power a great deal. The versatility helps greatly, as you can tailor its effect to the situation. I still have the feeling that it might be a little weak, and this is definitely a power I'd like to see in action at the table: perhaps the bonuses don't matter; perhaps they matter a great deal.
That's my more in-depth look at Path of the Courageous Heart. I find it a very problematic class. I don't like classes that take several levels to get going; waiting until 10th level for your unarmed strike to get good – sometimes – is too long for me. There are times when it'll work well, but I'd prefer a more reliable subclass for my barbarian.